Google Reviews
What Our Customers Say on The #1 Review Platform
Carlos Peña
I found Film District the best in terms of responsiveness and clarity of information provided. In the long build up to filming, my point of contact was Dzipai whom I found quick to respond and helpful. I spoke with Sameer who gave me some very useful insight as well!
Mohammad Hatamleh
We have used their services multiple times. They really listen to our needs and wants and accommodate us. I highly recommend their services.
Ibrahim Chughtai
Great film production services. The cheapest rates in the market with excellent skilled staff and quality work like no match to it. Highly recommended for video production, hiring equipments, photo booths and photo graphy. They even offer drone videos!
D.S Manglia
Came to know they are best in there content creation, being into NGO for the decades it is very important for the viewer to see the actual story in term to release funds for the needy. Film District and team helped me run my Campaign for Women and Ramadan successfully. Thank you.
Sohail Ahmed Shaikh
Thank you for your creativity Film District. Video Production is really fantastic I have boosted my business people are searching our Agency with the name. Your creative team had turned my visualization into result. I would recommend others to Hire this Agency.
Alessandra Cocksedge
Film District Dubai were fantastic, and we really enjoyed working wit them. The crew were really communicative and we were in constant contact in order to make sure permissions and plans for the shoot were all in place. FDD were also great at working to our clients ever-changing schedule of - especially for some VIPs!
Ian Low
Mr Dzipai and Mr Sameer helped me with my production. They are very professional and good at what they do. I was very satisfied by the end product that was delivered.
Danijela Andric Casson
We were absolutely thrilled! Starting with the initial meeting, quotation, equipment, on-site handling and the pro-active and competent suggestions on set to get the best output. Absolutely recommendable! The energy on set was also friendly, relaxed and professional!
Dana Itani
I really enjoyed working with this video production company in Dubai, they were very accommodating to me and my crew as we were filming on a green screen. It was my first time doing such a shoot, so it was great to have help and I learned so much. Highly recommend it!
Emily Chen
Had a wonderful experience with Film District recording a short video with the green screen. Dzipai was very responsive and helpful with questions and the team on-site were professional and easy to work with. Thanks so much!
Maryam Mohammed
Video production company, amazing photography and videography skills absolutely in love their work! This is my first time and I'm looking forward to working with them again! Thank you so much Film District.
MJ Allison
The crew were very professional helping us out with a video issue which they promptly resolved using an elegant solution. I will certainly refer back to them with any other issues. The Evident Group
James Southgate
Superb. Great kit hire. We used for a 3 day shoot and recommend highly. FDD were extremely helpful, punctual, polite with our clients and did everything we asked and more.
Film District Dubai
What are you looking for in a video production company? Expertise? Creativity? Trustworthiness? Reliability? You'll find all that and more at Film District Dubai. Film District Dubai is one of the most prominent production houses in the UAE. With over 12 years of industry experience, we've seen and done it all, and we use that knowledge to deliver stunning creations tailored to every client's specific needs. Customer satisfaction is always our top priority, and after over a decade of video production, we know how to give our clients exactly what they're looking for.
We believe that communication is vital for a media production company as prominent as ours. That's why we begin our video production service by discussing your needs, requirements, and expectations and walking you through our process step by step. Throughout the process, we work systematically and remain focused on the task at hand while at the same time maintaining communication with you to ensure we are always on the same page.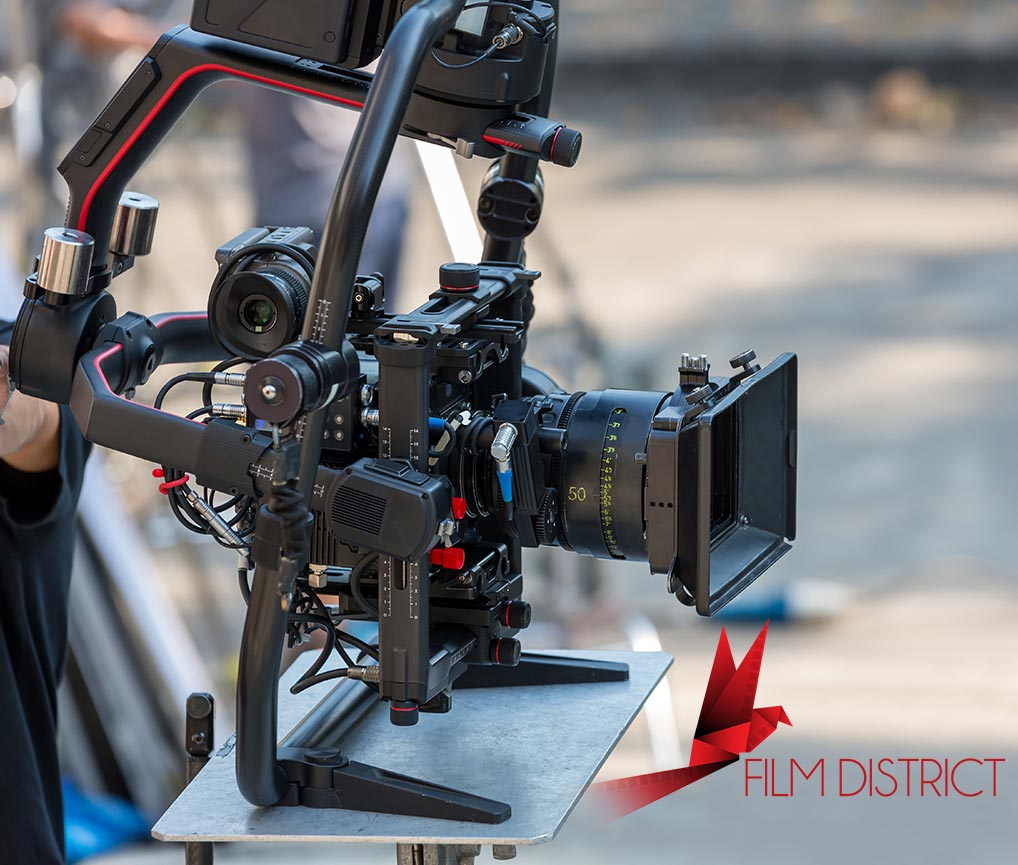 Film District
About Our Company
Our film production agency houses highly-trained teams of industry professionals with expert knowledge and finely-tuned creative skills. Over the years, our expert staff has perfected the media production process to ensure excellent results with as little hassle on your part as possible. We employ a tried and tested customer-centric approach that helps us create high-quality visual content on virtually any topic.
Our services include corporate video production, event video production, commercial video services, testimonial video services, animated video services, social media video services, and line production. Depending on the service, as a known video production company in Dubai, we know how to adjust our production process and choose the right technology and tools to achieve the desired result.
At Film District Dubai, we strongly believe in managing client expectations. We prefer to undersell and over deliver, and that approach has our clients coming back for more. So, how can you tell if we are the right production company for you? No two video production companies in the UAE are the same; we all put a unique creative spin on every video we create. Check out our previous videos to see if our creativity is a match for you.
Video Production Agency
Our Production Services Videos
Video Production Agency
Delivering Only The Best Video Quality
Aside from the obvious fact that Film District Dubai is the best in any form of film production in the UAE, particularly in the city of Dubai, our Video Production Company combines professionalism, attention to detail, a passion for creativity, and a customer-centric project process. This has resulted in several highly successful video and film production projects, with many satisfied customers vouching for our work. Working with us means working with a highly functional and technologically advanced team that is up to the task of any commissioned project.
Click For Sound
Our FAQs
Frequently Asked Questions
Since our services are tailored to your requirements, the cost varies from project to project.
---
- Corporate videos can cost as little as 6000 to 8000 AED but can go up to 100 000 AED. In each case, the cost covers the entire production process, including scriptwriting, storyboarding, voice-over and sound, shooting, and post-production.
---
- Event video production starts at 3000 to 5000 AED and up, depending on the number of crew members and event days.
---
- For commercial video production, the price depends on the subject and complexity of the video. These videos can require a large budget to produce, but we never sacrifice quality for cost and will do everything to find the balance between budget and quality.
---
- Testimonial video production cost is calculated similarly to event video production cost, as it depends on the crew and duration of filming.
---
- For animated videos, the price depends on complexity.
---
- As is the case with commercial videos, the key is in finding the balance between budget and quality.
---
- Line production cost depends on many elements. Since we have equipment in-house, we are able to offer competitive rates, which greatly the quality we can provide for each client's budget. Clients receive itemized invoices to maintain full transparency.
For all types of services, our process is quite straightforward. We begin by discussing your project with you, familiarizing ourselves with your business, and learning everything we can about your company and requirements. For projects that require scriptwriting, that is where we begin. We then create a storyboard, prepare the sound elements, and start shooting or animating the video. When we put all the elements together, we share several drafts with you to get your feedback. We then implement the necessary changes and send the final version to you for review.
Film District Dubai employs large teams of industry experts well-versed in different types of process. We have enough skilled filmmakers to develop videos in the studio, shoot events from start to finish, and handle each project and client with the individual attention they deserve.
We believe that good communication is instrumental in meeting client requirements, so at the early stages of your project, we will spend some time talking to you to gather all the necessary information. Once we start working on your video, we will be sending you progress reports and drafts for review, and aside from your feedback, we don't require your involvement. Feel free to let us take the wheel while you dedicate your valuable time to your business.
We serve all Emirates: Abu Dhabi, Dubai, Sharjah, Ajman, Umm Al Quwain, Ras Al Khaimah, and Fujairah. In Dubai, we serve every single community.
---
Deira

Abu Hail
Al Baraha
Al Buteen
Al Dhagaya
Al Garhoud
Al Hamriya Port
Al Khabisi
Al Mamzar
Al Mizhar
Al Muraqqabat
Al Murar
Al Muteena
Al Nahda
Al Qusais
Al Ras
Al Rashidiya
Al Rigga
Al Sabkha
Al Twar
Al Waheda
Al Warqaa
Ayal Nasir
Dubai International Airport
Hor Al Anz
Mirdif
Muhaisnah
Nad Al Hammar
Nad Shamma
Naif
Port Saeed
Rigga Al Buteen
Umm Ramool
Warisan
Al Amardhi

Bur Dubai

Al Bada
Al Furjan
Al Hamriya
Al Hudaiba
Al Jaddaf
Al Jafilia
Al Karama
Al Kefaf
Al Manara
Al Mankhool
Al Markada
Al Muntazah
Al Rifa
Al Satwa
Al Shindagha
Al Souk Al Kabir
Al Wasl
Bu Kadra
Business Bay
Downtown Dubai
Dubai International City
Nad Al Sheba
Oud Metha
Port Rashid
Ras Al Khor
Ras Al Khor Industrial Area
Trade Centre 1
Trade Centre 2
Umm Hurair
Zabeel

Jumeirah

Al Barsha
Al Reem
Al Quoz
Al Safa
Al Sufouh
Dubai Marina
Emirates Hills
Jumeirah Islands
Jumeirah Lake Towers
Mudon
Saheel
The Greens
Umm Al Sheif
Umm Suqeim

Jebel Ali

Discovery Gardens
Dubai Investments Park
Jebel Ali Village
The Gardens
---
We also provide services to our international clients.