The Sony ZV-E1 is a mirrorless camera made specially for vloggers, video fans, content producers and anyone in media production. It combines top-notch photography technology with cutting-edge capabilities to enable users to quickly and easily capture breathtaking images. The ZV-E1 offers a variety of creative opportunities to convey your individual vision, whether you are a novice or an experienced expert.
The Sony ZV-E1's Features
1. Engineering and Ergonomy
The Sony ZV-E1 was created with mobility and ease in mind thanks to its small size and low weight. You can concentrate on your creative process without interruptions thanks to its ergonomic grip and simple controls. The camera's tiltable LCD screen makes it simple to take selfies and vlog, making it the perfect travel companion for documenting your daily activities.
2. Video and Image Quality
With a powerful 24.2-megapixel APS-C Exmor CMOS sensor & the BIONZ X image processing engine, the ZV-E1 produces amazing detail and images of the highest caliber in both still images and moving pictures. You can shoot 4K video at 30 frames per second and save your moments with astonishing clarity. Furthermore, even in difficult lighting circumstances, the camera's high ISO sensitivity range guarantees great performance.
3. Modern Autofocus Technology
Say goodbye to fuzzily focused photos and welcome to crisp ones. Real-time Eye AF for both people and animals means that your subjects will always be sharply in focus when using the Sony ZV-E1. Real-time tracking makes it simple to record swiftly moving action since it allows for seamless monitoring of moving subjects.
4. Numerous Shooting Modes
To meet various creative demands, the ZV-E1 offers a variety of shooting settings. You may generate professional-looking bokeh effects using the backdrop Defocus option, isolating your subject from the backdrop and producing a nice depth of field. S-Log2 and S-Log3 image profiles, among others, are provided by the camera enabling more flexible color grading and post-production.
5. Defocus the Background for Creative Freedom
The Sony ZV-E1's ability to produce spectacular backdrop defocus effects is one of its best qualities. With its huge sensor and wide-aperture lenses, you can easily blur the backdrop and accent your subject, giving your images and movies a hint of cinematic elegance.
6. Easily Accessible Connectivity Options
Keep in touch and quickly share your stuff. Due to the ZV-E1's integrated Wi-Fi and Bluetooth capabilities, you can download files to your smartphone or tablet for easy editing and social media sharing. Additionally, the Imaging Edge Mobile app allows you to remotely control the camera, allowing you more freedom to take pictures from various perspectives.
7. Touchscreen & User Interface that is Intuitive
The Sony ZV-E1's user-friendly interface and intuitive touchscreen make navigating the device a joy. The responsive LCD screen ensures a fluid shooting experience by providing access to key settings and features. The camera's interface is designed to be simple to use regardless of your level of experience.
8. Audio Enhancement
The Sony ZV-E1 is aware of how crucial good audio is in producing engaging content. It has a directional 3-capsule microphone that eliminates background noises while recording crystal-clear audio. The camera also has a headphone jack and supports an external microphone, enabling you to check audio levels and provide professional-level sound quality.
9. Extended Battery Life
With the long battery life of the Sony ZV-E1, you'll never miss a moment. Your excursions may be documented without being interrupted thanks to the camera's longer shooting duration. The ZV-E1 will be your dependable friend throughout the day, whether you are exploring beautiful landscapes or capturing priceless moments.
10. Accessory and Compatibility
With a variety of appropriate attachments, you may improve your shooting experience. You may adapt to varied shooting situations and broaden your creative boundaries with the ZV-E1's compatibility for a variety of lenses. To further improve your content creation process, you may also accessorize your camera with extra grips, tripods, and lighting tools.
Cost and Availability
For its features and skills, the Sony ZV-E1 delivers great value. The price of the camera is €2,005 ($2.198) for the body itself or €2,435 ($2.498) for the body with a 28-60mm F/4-5.6 kit lens. The camera is readily available through authorized merchants and internet marketplaces, making it accessible to both pros and hobbyists.
How to Make the Most of the Sony ZV-E1
1. Understanding Camera Controls
It's crucial to become familiar with the Sony ZV-E1's numerous camera controls if you want to make the most of your shooting experience with it. Understanding how each button and dial works can help you take the ideal picture with ease, from altering exposure settings to choosing focus locations. For a smooth shooting experience, take the time to understand the camera's menu system and tailor it to your tastes.
2. Utilizing Original Shooting Modes
The Sony ZV-E1 provides several innovative shooting options that may give your images a distinctive flair. To improve the tone and aesthetics of your photographs and videos, play around with tools like Picture Profiles, Creative Styles, and Picture Effects. Try out various settings and modes to find your own look and unleash your creativity.
3. Improved Video Quality
The Sony ZV-E1 offers great video capabilities for those who enjoy watching videos. Consider shooting in 4K resolution for the finest video quality, and use the camera's built-in stabilization to produce smooth footage. Use the focusing tools, such Real-time Eye AF & Tracking, to keep your subject sharply in focus during the video. Investigate the different frame rate choices as well to record slow-motion and time-lapse sequences.
4. Making Use of Lighting's Power
The right lighting is essential for both photography and cinematography. You may use the built-in fill light, change the exposure settings, or attach external lighting accessories to the Sony ZV-E1 to enhance your lighting circumstances. Try out various lighting settings and methods to highlight your topic and produce beautiful visual effects.
5. Making Audio Recordings Better
When creating professional-looking videos, audio quality is just as crucial as video quality. A directional microphone that is included into the Sony ZV-E1 catches sound that is crystal clear and crisp. Use a wireless audio system or an additional microphone for even better sounds. To achieve the best sound recording, pay attention to the microphone positioning and tweak the audio levels.
6. The World of Lenses
The Sony ZV-E1's flexibility with a variety of lenses is one of its benefits. Using various lenses may greatly expand your creative choices, whether you're photographing close-ups, close-ups, or landscapes. Try out zoom lenses for a variety of framing possibilities or prime lenses for a narrow depth of focus. Your photography benefits from the distinct perspectives that each lens offers, enabling you to create fascinating visual narratives.
7. Taking Care of Battery Life
It's critical to correctly manage the battery life to prevent running out of power throughout your shooting sessions. It's a good idea to keep extra NP-FW50 batteries on hand because the Sony ZV-E1 uses them. You may change the camera's power settings, utilize the electronic viewfinder rather than the LCD screen, and switch off inactive functions to save battery life.
8. Moving and Editing Video
It's time to transfer & edit your footage after using the Sony ZV-E1 to take beautiful pictures and movies. Use the built-in Wi-Fi or a USB connection to connect the camera to your laptop and transfer the files without any issues. To realize your artistic concept, investigate user-friendly programs or specialized editing software. To make your images stand out, play around with color grading, transitions & audio improvements.
A Display of Your Work
It's time to share your visual works with the world once you've mastered them. Use a variety of channels to showcase your work, including social media, websites, and specialized photography and videography forums. Engage your audience, get comments, and pick up tips from other content producers. Having a strong support system may motivate you to keep learning new things and open up new creative chances.
Troubleshooting Typical Problems
Although the Sony ZV-E1 is a capable and dependable camera, you could occasionally run into problems when shooting. Learn how to perform typical troubleshooting procedures, such as clearing the sensor or resetting the camera's settings. If issues continue, see the camera's user manual or contact Sony customer care for assistance.
Tip for Maintenance
1. Always Keep it Clean
Maintaining the functionality and aesthetics of your Sony ZV-E1 requires routine cleaning. Make sure the camera is off and all related accessories are removed before cleaning. Wipe the camera body carefully with a clean, lint-free cloth. You can lightly wet the cloth with water or use a specific camera cleaning solution for grime or fingerprints that are more difficult to remove. Use a soft brush or microfiber cloth with special caution while cleaning the LCD screen and buttons to avoid scratching them.
2. Safeguard the Lens
One of the most important parts of your Sony ZV-E1 is the lens, thus it's important to maintain it clean and safe. To protect the lens from debris, moisture, and unintentional scratches, always use a lens cap or lens hood when the camera is not in use. The oils and grime from your skin can harm the lens coating if you contact the lens directly with your fingers. Use a lens cleaning brush or a specialist lens cleaning cloth to carefully remove any smudges or dirt from the lens.
3. Battery Maintenance
To get the most out of your Sony ZV-E1's performance and battery life, proper battery maintenance is crucial:
i. Utilize only Sony ZV-E1 chargers and batteries.
ii. Keep the battery away from hot or cold conditions.
iii. Before long-term storage make sure to completely charge the battery.
iv. Remove the batteries from the camera and keep them in a cool, dry location if you won't be using it for a while.
v. Consistently inspect the battery connections for dirt or debris and clean them as necessary.
4. Updates to Firmware
Sony provides firmware updates on a regular basis to enhance camera performance, add new features, and fix any problems. Updating the firmware on your Sony ZV-E1 is crucial. Download the most recent firmware for your camera model from the Sony website. To properly install the firmware update, according to Sony's instructions. By often checking for firmware upgrades, you can make sure that your camera is still optimized and works with the newest gadgets.
5. Transport and Storage
Take safety care when storing or moving your Sony ZV-E1 to avoid damage. Place the camera in a specialized bag or case designed for cameras that offers sufficient cushioning and defense against shock and dampness. Do not store the camera in an overly hot or humid area or on top of heavy things. Use a safe, well-padded bag during transportation to reduce the possibility of unintentional bumps or shocks.
6. Preventing Extreme Situations
The performance of your Sony ZV-E1 might be negatively impacted by extreme temperatures, both hot and cold. Keep the camera out of the sun as much as possible, especially when not in use. High temperatures can shorten battery life and harm interior components. Extreme cold can also have an impact on battery performance and perhaps harm sensitive parts. Consider utilizing weather-sealed accessories and taking extra steps to safeguard your camera if you must use it in harsh circumstances.
7. Correct Handling
To avoid drops or falls when handling your Sony ZV-E1, make sure you have a solid hold. The LCD screen, buttons, and dials shouldn't be subjected to extra pressure because they might be sensitive to it. Additionally, it's a good idea to secure your camera with a camera strap when taking pictures or carrying it about. You may reduce the possibility of unintentional damage to your camera and ensure its best performance by handling it with care.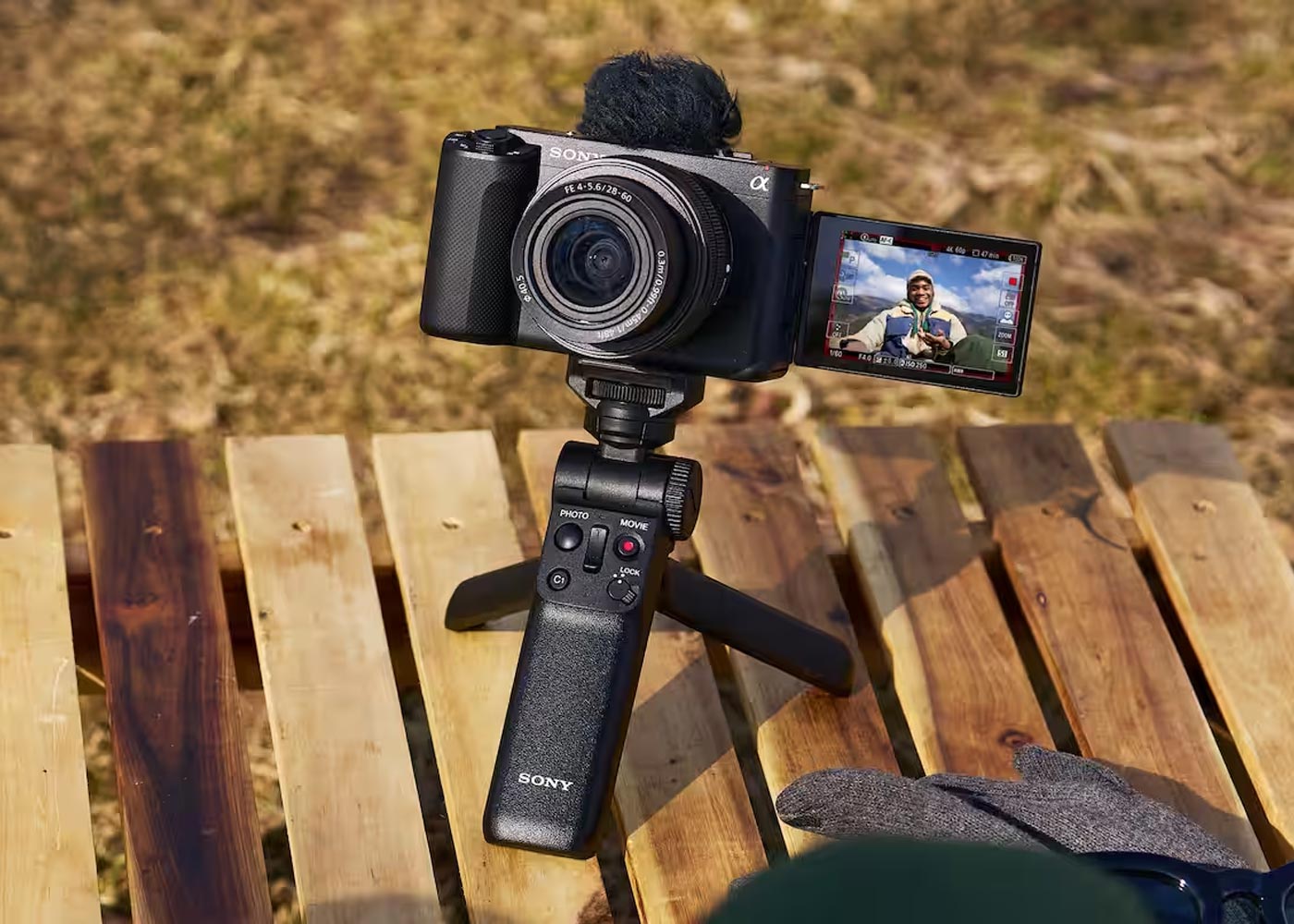 Advantages of the Sony ZV-E1
1. Exceptional Picture and Video Quality
With a 24.2-megapixel APS-C sensor, the Sony ZV-E1 produces superb picture quality with vivid colors and fine details. This camera makes sure that your material stands out from the competition, whether you're taking pictures of gorgeous vistas or making high-definition films.
2. Versatile Touchscreen with Articulation
The completely articulating touchscreen of the ZV-E1 is one of its most notable features. This enables you to shoot artistic low- or high-angle photos while vlogging or to easily frame oneself in the shot. On-the-go menu navigation and configuration changes are simple thanks to the touch-sensitive interface.
3. Superior Audio Performance
Great audio quality is necessary to produce engaging material. A three-capsule microphone on the ZV-E1 captures immersive, crisp sound while reducing background noise. It also has a 3.5mm microphone input, providing you the choice to use an external microphone for audio of a professional caliber.
4. Immediate Eye Autofocus
Modern technology is used by the Sony ZV-E1 to track and focus on your subject's eyes in real time. With the help of this function, your movies and photographs will always be clear, even whether you're moving or shooting in dim lighting. Say good-bye to fuzzily focused images and hello to dependably clear images.
5. User-Friendly and Intuitive Interface
Sony is aware of the value of a simple user interface. The ZV-E1 has a user-friendly menu system that makes it simple to access and modify settings. Your workflow is streamlined by this user-friendly interface, saving you time and letting you to concentrate on your ideas.
6. Defocus the Background and Bandle the Bokeh
Bokeh, widely known as a professional-looking backdrop blur, has never been simpler to achieve. You may accentuate your subject and isolate it from the backdrop with the ZV-E1's many artistic depth of field customization choices. With this camera, you can easily take cinematic pictures that give your material a magical touch.
Disadvantages of the Sony ZV-E1
1. Battery Life is Limited
The ZV-E1 has certain drawbacks, including a limited battery life. The NP-FW50 battery, which powers the camera, offers about 260 photos per charge. When shooting for a long time, especially when you're far from power sources, this might be a problem. For continuous shooting, it is essential to have extra batteries on hand or to purchase an additional power source.
2. IBIS (In Body Image Stabilization) is Absent.
The ZV-E1 does not include in-body image stabilization (IBIS), unlike some of its rivals. Even while it provides electronic stabilization when recording video, the absence of IBIS might make handheld shooting less stable, especially when using longer lens lengths or in low light. Using a tripod or using lenses with built-in stabilization can assist get over this restriction and provide images that are more fluid.
3. Only a Few Lenses are Compatible
The Sony ZV-E1 has access to a large selection of high-quality glass thanks to its compatibility with Sony's E-mount lenses. The alternatives accessible to those looking to take use of full-frame optics are, however, limited because it does not enable the use of Sony's full-frame lenses. Although the variety of E-mount lenses now available is great, some consumers might want more options outside of this selection.
4. Lack of an Integrated ND Filter
In settings of intense illumination, Neutral Density (ND) filters are crucial for exposure regulation and the creation of unique artistic effects. The ZV-E1 regrettably lacks an integrated ND filter. This implies that you'll have to rely on external ND filters or manually change your settings to account for excessively bright subjects, which can be annoying while shooting while on the move.
5. Only Partial Weather Sealing
It's important to keep in mind that the ZV-E1 lacks substantial weather sealing if you're an adventurous content maker who regularly goes outside in bad weather. While it may tolerate mild dust and spills, it is not completely waterproof. In order to avoid any potential damage, it is crucial to use caution and safeguard the camera while it is exposed to bad weather.
Conclusion
For those who enjoy making videos and content, the Sony ZV-E1 is a game-changer since it gives you a potent instrument to realize your artistic vision. This camera offers countless opportunities for producing amazing images and movies because of its outstanding image quality, cutting-edge focusing technology, flexible shooting modes and handy networking choices. The Sony ZV-E1 will let you produce spectacular material that enthralls your audience, whether you're a vlogger, a travel lover, or simply an enthusiastic visual storyteller in Film District Dubai.